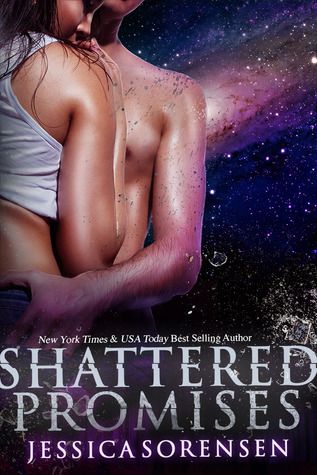 SHATTERED PROMISED BY JESSICA SORENSEN
**Mature Content Warning** 17+ for language and sexual content. (A re-imagining of The Fallen Star told as a New Adult Paranormal)

For twenty-one year-old Gemma, life has never been normal. She knows nothing about her past and has been haunted by the same monsters in her nightmares for the last few months. Unemotional and numb to life, she feels disconnected from everyone. Until the very first day she cries. After that, nothing in her life is the same.
Her emotions slowly surface and she starts experiencing love, happiness, and anger, feelings she never knew existed. But they leave her confused and she doesn't know whether to embrace them or run away from them.
Her life only gets more complicated when she meets Alex. Sexy, arrogant, and secretive, Alex can get under Gemma's skin like no one can. Yet she's drawn to him by an invisible connection she has no control over. She's also seen him before. In her nightmares.
Every part of Gemma's mind is screaming at her to stay away from Alex, but every other part of her is begging to get close to him. But the closer she gets, the more she realizes Alex knows more about her than he originally let on.
As secrets about her past unravel, Gemma's life becomes threatened. She needs to figure out what's going on, before she winds up dead. But the only person she can turn to for answers is the one person she isn't sure she can trust.
HERE'S WHAT I THOUGHT
I'll start of by saying The Fallen Star was the very first book I read by Jessica Sorensen and I have been a huge fan of hers ever since. When I heard that she was re-writing

The Fallen Star

into a NA series, I may have jumped up and down and clapped like the silly little fan girl I am. And then I waited....and waited...and then I begged for an ARC. And then I got it and I read it that day. Because, like I said, I'm a fan girl. And I fell so much more in love with all the characters I already knew so well! So I'm going to try and write this review w

ithout

too much c

omparing

between the two

, but I can't promise anything.
You should know that you most

definitely

can read this book without reading The Fallen Star!
You won't be missing out on anything(other than another great book) if you read this before or don't read the other at all.
Gemma has always known a life without the loving family and emotions that everyone else seemed to get. In fact, she doesn't ever remember crying. But one day, she does, and she begins to experience every emotion that she had never felt before. Happy, sad, tired, frustrated, hurt, and even lust, all coming at her hard and fast, leaving her little time to processes everything. On top of it, she meets Alex and she can't shake him out of her mind. But Alex is arrogant and downright rude to her, which may or may not only fuel her desire to be around him more. What Gemma doesn't know is the secrets that Alex holds might undo her entire outlook on her world, and his as well.
As Gemma starts to learn of a word full of Keepers, Witches, Foreseers,Vampires, Death Walks, Faeries, and so much more, so do you. You feel as if you're Gemma learning everything for the very first time, fitting together the missing pieces of the puzzle that is her life.
I loved Gemma in this book. She was much different than in
The Fallen Star
. Now Gemma is a women and despite her unemotional upbringing, she doesn't let that phase her when it comes to her new emotions. She knows what she wants and what she needs and she'll do what it takes to get it. She doesn't back down and cower when new situations present themselves, and I admire that in a female character.
Alex was just as big a butthole in this book than in
The Fallen Star
, but he is still a favorite of mine. He has a mission is is sent to do when it comes to Gemma, but there's a pull that draws him to her. He breaks the rules, regrets it, and then does it again. It's a vicious cycle that he doesn't know how to fix. You can really identify with him throughout the book. You can't help but cheer him on to make the right decisions!
There's a few other characters that will capture your heart. Aislin is Alex's sister who is gorgeous and smart but with supernatural talents of her own. And then there's Laylen, who is by far my favorite character. He has a scene in the beginning when you first meet him that just confirmed everything I thought about him before. He embraces what he is in
Shattered Promises
instead of being ashamed of it in
The Fallen Star
, which makes him even more appealing and loveable.
I need book two to be out already because I can't wait to see what is in store with this grown up Gemma and Alex. They're so much more compatible in this book and I loved every minutes of it!
I GAVE SHATTERED PROMISES
CHECK IT OUT, YO!
I RECEIVED A COPY OF THIS BOOK IN EXCHANGE FOR MY HONEST OPINION.