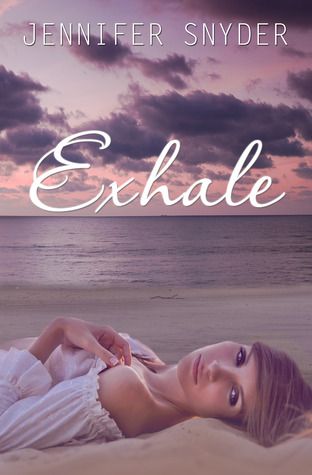 EXHALE BY JENNIFER SNYDER
Inhaling in life is easy. It's the exhaling—the letting go— that's the hard part.

Katie Elliot has always known the Conner twins. For years she secretly pined after one, while playfully averting the advances of the other. Once upon a time, she was fine with that. Then came the moment when her twin of preference kissed her and changed everything.

As if realizing love can be complex—even when it's reciprocated— isn't hard enough, tragedy strikes, tearing Katie and the boy she's always desired apart. Finding herself torn between love and guilt, Katie must learn when it's acceptable to let go—when it's finally okay to exhale.
HERE'S WHAT I THOUGHT
The blur and the cover really made me excited to read this book. I grew up by the beach, so it's something that has always played into my heart's song. I also am a sucker for love triangles. Both of these things seemed to be present in Exhale just based upon looks alone.
Katie is a young girl whose two best friends are her twin neighbor boys. Derek is the strong silent type that Katie can't get out of her mind, while Kyle is the loud, obnoxious one that not-so-secretly pines after her. Derek and Katie finally let each other in on their feelings for each other, but then comes a tragedy that strikes the entire town, directly effecting Katie and Derek's relationship and themselves as a people.
Katie is your typical teenager. She has wants what she can't have while her best girlfriend is flirty and outgoing. Once she finally gets Derek, she falls deeply. Ah, the joys of young love. I also enjoyed Derek and Kyle throughout the book. Kyle was a great character who I thought added a lot of fun into their story. Derek was strong and protective and always did what he felt was right. I admired that.
That being said, I had to look past some things to really enjoy Katie's story. I felt like something was missing from the beginning of the book. It started off great and then just felt very rushed after that. I felt
like Derek and Katie went from zero to thirty in five seconds flat. I understood it was young love, but I guess I didn't feel the character development before they got there. Katie seemed very one dimensional to me as the main character. I just couldn't feel that attachment to her, although I did feel it with Derek and Kyle. I would have liked to see some more development of the story before the night of the first party.
In all, I liked the storyline and most of the characters. It was a sweet and painful tale of young love, which everyone has experience in one way or the other.
THREE AND A HALF CUPCAKES
CHECK IT OUT, YO!
You can find

Exhale

on Goodreads, Amazon, Smashwords and
Barnes & Noble.
You can find Jennifer Snyder on Facebook, Twitter, and her blog.
DOUBLE THE GIVEAWAY
a Rafflecopter giveaway
a Rafflecopter giveaway
I RECEIVED A COPY OF THIS BOOK IN EXCHANGE FOR MY HONEST OPINION.