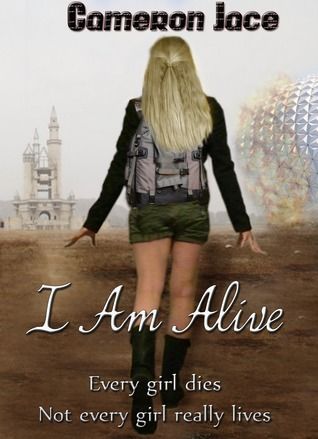 I AM ALIVE BY CAMERON JACE
Every girl dies - not every girl really lives.

Sixteen-year-old Decca Tenderstone feels captivated when she meets Leo, who is arrogant, silent, beautiful, and shoots almost every one he meets.

the usual boring girl meets badboy story... hmm... with a twist ...

They live in a dystopian future in Los Angeles where every sixteen-year-old is ranked on a scale from one to ten to determine their future. Outranks, who are considered a danger to society, are forced to attend the Monster Show, a brutal sacrificing ritual that is broadcasted worldwide on live TV, where rebellious teens are labelled Bad Kidz or Monsters and get to fight for their lives in deadly games.

To prove that you're still alive you have to scream I Am Alive every six hours. Lower your voice, and you're dead.

Decca doesn't need Leo's company. She has secrets of her own. While they both can't stand each other, she will find out why she doesn't fit into any rank.

Nothing will stand in her way as she has to make choices concerning love, life, staying alive, growing up, and finding out who she really is.
HERE'S WHAT I THOUGHT
I'm a Dystopian nut. What can I say? It's my roots of where I started reading as an adults and I absolutely love the idea of the future that's not like the Jetsons. When I read the blurb for I Am Alive, it caught my eye immediately. It takes place in Los Angeles, which I am very familiar with growing up in San Diego and I always love stories where I can relate to where it is happening.
We start off by meeting Katie on ranking day. She's is pre-ranked to be middle class and seems to be okay with that. She's content she's not going to be lower than a five, which would make her an Outrank and have consequences for her family, but she has a whole hidden agenda. She wants to get into the Monster Show and she has an amazing plan with an even more interesting reason behind it.
This may make me a morbid person, but I love the idea of the Monster Show. Not because innocent children are dying, but I love the suspenseful emotion that it fires inside me. You start to become everyone's cheerleader, but you also start to feel the conflicted emotions of what would you do if you were in that situation. It's nerve-wracking! I felt like I was there and it's creepy and intriguing all rolled into one.
You also meet Leo, a rock star of his time, who is mysterious and also it's questionable if he's trustworthy. I liked him from the beginning but I wanted to know more. I wanted to know his story. I STILL want to know his story, even though you learn bits and pieces of it, but I will have to wait until the next book. In fact, there's a whole lot of things I still want to find out, which makes this book so awesome. You get so sucked into this new world that you are left wanting more.
Another favorite part of mine was all pop culture references. First it was the added Z's to words and then when I found out about The Breakfast Club, I about had a heart attack. Also, the Monster Show takes place where Disneyland used to be! And they ride on some of the old school rides and I kept thinking, "I've been there! I've done that!" It was pretty cool.
Last but not least, there's a love interest in this book. It's sweet and not the whole story, but everyone needs someone to ship in books and you will definitely be a Leo and Katie shipper! Or else we can't be friends. Okay, maybe we can. Maybe!
I GAVE I AM ALIVE
FIVE CUPCAKES
CHECK IT OUT, YO!
I RECEIVED A COPY OF THIS BOOK IN EXCHANGE FOR MY HON

EST OPINION.