I am super pleased, excited, nervous and very privileged to announce that I am co-hosting my very first challenge, the UtopYA 2013 Reading Challenge! In case you don't know what UtopYA Conference is, you can check them out on their
blog
! When I first heard about the conference in Nashville, which is just an hour away from me, I couldn't believe something so big was happening so close to me! I had silently made it a goal of mine to read as many of the attending authors and panelists books as I could for 2013. Tess over at
My Pathway to Books
had this great idea, too, and went above and beyond and issued a challenge! Then she so graciously took me under her wing and asked me to co-host!
HERE'S THE SKINNY ON HOW THE CHALLENGE WORKS.
*NOTE: you do not have to be attending UtopYA con to be a part of the reading challenge*
*this is an unofficial challenge and not affiliated with UtopYA*
The challenge is to reach your set goal. There are 6 different levels to choose from.
Levels
5- Gnome
10- Fairy
15- Mermaid
20- Werewolf
25- Vampire
30- Angel
Challenge Rules
1. The books must be written by an author that is a panelist, exhibitor or attendee of UtopYA Con 2013.
2. The challenge will start on January 1, 2013 and end December 31, 2013 but you may join at anytime.
3. You don't have to have a blog to participate. Just join in on the fun somehow! P.S. that means authors please participate too! We would love to have you.
4. The books can be in any format (ebooks, paperback, scroll, etc.)
5. To join the challenge
if your a blogger, make a blogpost with the challenge button and tell us what level you've picked and link your post to the linky. Everyone else, tweet/facebook/pin/goodreads etc. what level you picked with a link to this post and link the direct link to the linky.
Prizes
(prizes are to be determined but they will be awesome)
1. The person that reads the most books by UtopYA authors (books read before the Con will count x2, so if you read 15 books before the Con it will count as a score of 30)
2. Everyone that reaches their goal will be entered to win a prize
3. there will be UtopYA challenges throughout the year so be looking out for those!
UtopYA Authors
If you're a panelist, exhibitor, or attendee of the 2013 UtopYA Con and you're an author, I would love to do a promotion with the reading challenge! Please
fill out this google doc
if you're interested!
You can find the list of UtopYA author books on this GOODREADS SHELF.

*this list is subject to change due to additions to panelists and attendees*
Also come by and check out the UtopYA GOODREADS GROUP!
GRAB THE BUTTON FOR YOUR SIDEBAR!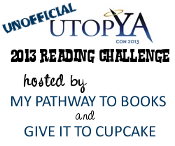 SIGN UP AND JOIN ALL THE FUN!
HERE'S MY GOAL FOR THE 2013 UTOPYA READING CHALLENGE:
I've reaching for the stars! I'm going to go for Angel status! That's 30 books read from UtopYA authors. I know I won't be disappointed since this years line up is beyond amazeballs. Yes, this calls for the adjective amazeballs. Can't wait to see every one's updates along the way!